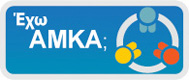 ΑΜΚΑλώστον to ΑΜΚΑ!
If you have not already seen the ads, the time to learn what is going on, and a July 1 onwards, all members and pensioners must have Social Security Number (AMKA).
AMKA, was created to facilitate transactions and will in fact be the employment identity and insurance number of every citizen.From now on it will be needed for the start of employment and insurance, issue or renewal of healthcards, receipt of pensions and allowances and will form the basis for electronic crosscheck of health costs and taxes and payments.
The procedure followed is the following: AMKA will replace the registration number of all insured persons and pensioners. Based on the A.M., insured and pensioners must be verified, either through the website http://www.amka.gr/AMKAGR/ or by calling 11131 (free) if they have been awarded AMKA. Those who find that they haven't got AMKA or there are errors, should have contact their insurance offices or KEP.