Fujitsu, together with design site Designboom, put out a global call to designers last year for PC-related designs that bring innovations to daily life. The winners of the Fujitsu Design Award 2011 have just been announced, and their creations provide an intriguing glimpse at "a life with future computing," the theme of this year's contest. Admire…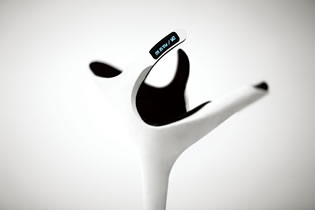 The Aid, a smart cane by Egle Ugintaite of Lithuania, netted the $42,000 grand prize. It features inward-facing sensors that measure pulse, blood pressure, and temperature, and an LCD screen on the clasp that displays health data. An SOS button, when pressed, sends the user's current health data and location to a help center so immediate assistance can be dispatched if needed.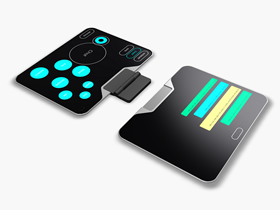 A $14,000 runner-up prize in the Lifebook category went to Philipp Schaake of Germany and his Crowd concept, a PC for the consumer of many moods.
Crowd can be configured to resemble a notebook or slate, and can also be tweaked so that the screen and keyboard are separate. The PC can even be operated via the back cover when closed.
"On the one hand, 'Crowd' can be used like a typical laptop. On the other hand, the user can activate a new, playful, and haptic interface for surfing the Web, chatting, or mailing," the designer says. The size of avatars on the screen, for example, indicates the frequency with which you contact a person or visit a Web site.
Submissions to the Lifebook category could appear in a notebook PC series slated for release in 2013.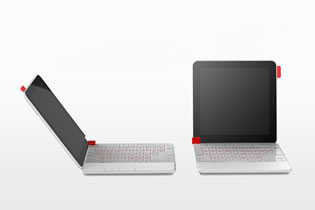 A demonstration of landscape mode (left) and portrait mode in Anderson, a next-generation convertible computing device with a compact square profile. And when we say compact, we mean compact. The gadget by Hong Kong designers Ma Yiwei and Tao Ying measures about 6.5 inches across and is just a little more than half an inch thick.
The hinged device can be used in two ways. When a user is standing or in motion, its best used in landscape mode and can be held much like a book. When there's a surface handy, Anderson works best in portrait mode operated like a laptop.
Anderson is one of 7 entries from more than 3,000 that netted a "judge's special award," and about $1,400, in the Fujitsu Design Award 2011.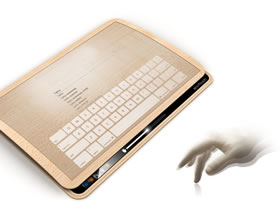 Another judge's special award went to South Korean designers Yonggu Do, Jun-se Kim, and Eun-ha Seo, who came up with the "ecoPad." Using the nano piezoelectricity film located below the display, the environmentally conscious computer generates electricity when the user presses the touch screen.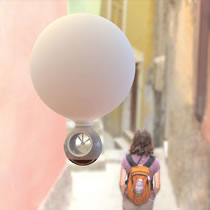 If you don't mind a curious-looking flying balloon stalking you on your next vacation, consider the Total Recall Agent by designers Shohei Nakamura, MoonHwan Lee, and YoungWook Jung of South Korea and Japan.
The balloon–another winner of a judge's special award–records travelers' activities, using cloud-computing technology to make sure everyone back home knows what the globe-trotters are up to. The design also includes travel guide functionality. And we thought bright-colored tracksuits made tourists stand out.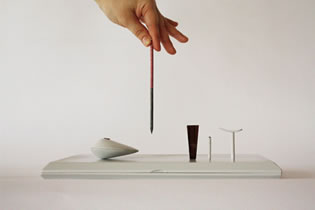 French designer Lou Xiaoyu imagined enhancing a PC's capabilities by adding functions like a projector, light, aromatherapy stick, virus alerts, and audio sensor via "pin like" components attached to the lid of a laptop. When not needed, the peripherals can just be pulled out of the computer and stored separately. Xiaoyu calls the innovation The Haunted Mountain. It won a judge's special award.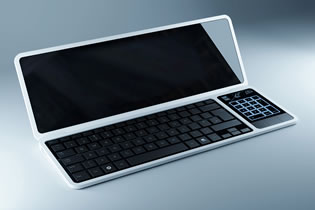 This Frame Series notebook by Florian Langer and Patrick Decker of Germany merges individual features of devices like smartphones and slate terminals into a single computer. The result, winner of a judge's special awards, is an integrated PC that harnesses the strengths of multiple devices.
See the full press release http://www.fujitsu.com/global/about/resources/news/press-releases/2011/0520-01.html